What is Virgin Hair?
Virgin hair is hair that has been taken directly from the donor or donors head and maintains its natural state. Virgin hair often times will have a few strands of light brown, gray or white hair in it. This is a clear characteristic that the hair hasn't been bleached, permed, colored or processed with any other chemicals in any way. The cuticles are naturally aligned in the same direction and are still intact. To achieve the different textures (ie. body wave, deep wave, loose deep), MyThairapy uses a steaming process to give you these patterns. Once the hair is washed, the hair will return to the donors natural curl or wave pattern. The steaming process contains absolutely NO chemicals.
What is Remy Hair?
Remy hair is exactly the same as Virgin hair with the exception that at some point in the donors lifetime, they may have permed, colored or altered their hair in some way. Remy hair is absolutely gorgeous and is usually the go to hair for purchasers for good reason. This hair reacts the same way as virgin hair in regards to curling, straightening, flat ironing and coloring. The only caveat is that the hair may not last as long as 100% unprocessed virgin hair. Keep in mind that in order to obtain certain curl or wave patterns all hair is steamed to achieve the desired look. However, NO chemicals are used.
What is Raw Hair?
Raw hair is hair taken directly from the donor and has not been processed with any chemicals or steam at all. This means, the hair is in its natural state and the cuticles are all aligned in the same direction. Typically, there are only 3 types of raw hair, 1) semi-straight, 2) wavy and 3) naturally curly. No other patterns should be present in raw hair. Depending on where you purchase your raw hair, it may be washed for cleanliness and should be washed only with a natural shampoo that contains no chemicals or harsh agents. You must be careful with raw hair as a consumer. Sometimes it can contain lice when purchased and received. Not to worry, this is a clear indicator that the hair is truly raw and unprocessed, although bothersome to some consumers.
What is Cambodian Hair?
Cambodian hair is sourced from Cambodia which is located in the continent of Asia with a population of over 7 million citizens. This hair is known for its soft, fine, lavish texture. This hair usually is grown by the donor in a natural straight or lightly waved texture. Cambodian hair has a lightly coarse texture and closely resembles relaxed African American hair. It can be curled, straightened and or flat ironed. This highly sought-after hair is in high demand and is growing in popularity among buyers.
What is Burmese Hair?
Burmese hair is sourced from Burma which is located in the Southeast Region of Asia with a population of approximately 52 million. Burma is a beautiful country located between China and India. Burmese hair is not as silky as Indian hair, or as course as Chinese hair. It's lives perfectly somewhere in the middle. Due to the natural hair care methods of the Burmese people (Example: washing hair with rice water only to restore PH balance) tend to have less grey hairs. The hair typically has never been chemically treated or altered in anyway. This ensures that the hair is as healthy as possible. This hair can be curled, straightened, flat ironed and colored to perfection.

Is Straight Hair the same length as Wavy or Curly Hair?
When thinking about straight hair vs wavy or curly hair, expect to buy a longer length when buying wavy or curly hair. Straight hair is typically measured laying flat while wavy and curly hair is measured when stretched out. When ordering wavy hair, you may want to consider ordering 2-3 inches longer to achieve your length. When ordering curly hair, you may consider ordering 4-6 inches longer to achieve the desired length.
In general, straight hair is longer than wavy or curly hair, because it is able to lay completely flat when being measured.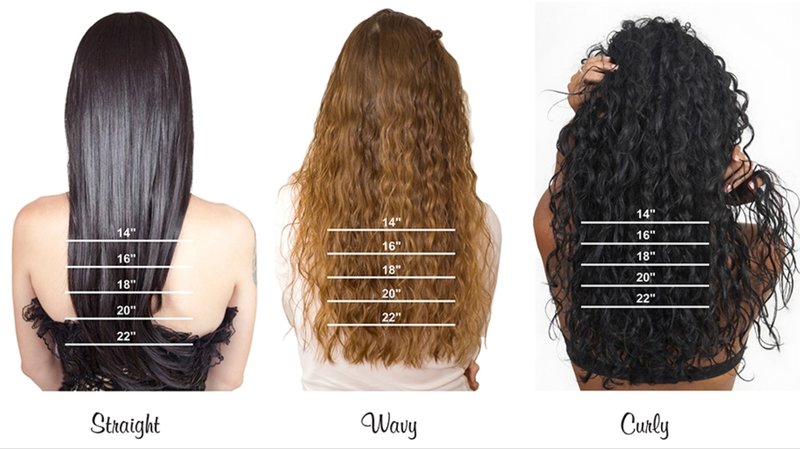 When can I expect to receive my shipment?
Once payment has been received, it takes approximately 1 to 2 business days to process your order. We allow for the maximum number of days to process orders in the event payment processing takes longer than expected. Once the order has been processed, please allow 3 to 5 business days for your product to be inspected, packaged and shipped for arrival to your door. MyThairapy personally inspects every package before it leaves our location. We want nothing but the best for each of our Customers. Once the order has been prepared for shipment, the Customer will receive a tracking number for their records.
However, if your order includes extra density and/or custom color, please allow 15 to 30 days for shipment. This is to ensure your product is customized to your requirements. Shipping methods offered below.
Domestic Shipping Methods
USPS First-Class Mail Parcel

Delivery in 1-3 business days for envelopes and small packages weighing up to 13 oz
USPS Priority Mail
Delivery in 1, 2, or 3 business days
International Shipping Methods

USPS Priority Mail International
Delivery in 6-10 business days
USPS Priority Mail Express International
Delivery in 3-5 business days
Do you have a Return Policy?
Due to the nature of our business, all sales are final and there are no refunds. However, we do allow exchanges within 7 business days of receipt of merchandise. Exchanged items must not be tampered with, damaged, cut, washed or altered in anyway prior to exchange. Customer is responsible for shipping fee for their exchange. Please submit all exchange requests via our "Contact Us" link.
How many bundles should I purchase for an install?
This all depends on several different factors. However, the average person can achieve a beautiful install with just 2 bundles and a frontal. Most customers find themselves craving thickness and volume, therefore, 3 bundles and a frontal is always the safest way to go. It can never hurt to have a little left over versus not enough hair to finish the install. Also remember, the longer you go in length (ex: 22, 24, 26 etc) the hair becomes thinner towards the ends. You may find yourself needing an extra bundle to achieve fullness.
How long will my hair last?
MyThairapy stands by the quality of its hair 100%. Therefore, we are proud to say that our hair, if properly cared for can last up to 2 years. It can be reinstalled multiple times and still maintain its beautiful quality. Please be sure to rotate your units to avoid excessive wear and tear.
Do you make your own wefts and units?
No, MyThairapy has 1 distributor and 1 distributor only that understands our Clientel and our expectations in terms of quality.
This allows us to ensure that we are getting the best quality hair at all times. We carefully chose this distributor based on their location, quality and volume of their product.
Can I color/dye the hair?
Yes, MyThairapy hair can be dyed, however, we HIGHLY recommend that a professional dyes the hair to avoid over processing which can lead to issues such as tangling and excessive shedding.
Can I straighten the hair?
If you are interested in a straight look, we recommend you purchase our "straight" hair. We do not recommend straightening ANY of the curly or wavy hair since this may permanently change the wave/curl pattern and may lead to shedding and tangling.
How to care for my hair?
During the shampoo and conditioner process, It's best to run your fingers straight down the hair to lather the shampoo. When rinsing out the shampoo, follow the same process of running your fingers down the hair gently until the shampoo is completely rinsed out. Follow this process for conditioning as well. Its always best to keep the hair going in one direction while cleaning. Always let the hair air dry for best results.
Co-Washing (cleaning with just conditioner only) is very helpful versus using shampoo every time.
Do not use shampoos with sulfate. It tends to strip the hair of much needed moisture which can cause the hair to tangle after a while.
Use cool water to rinse hair to reduce frizzing, lock in moisture and increase shine.
Seal both sides of the bundle wefts to prevent shedding.
Always use a wide tooth comb or your fingers in lieu of a brush to avoid shedding.
When combing gently start from the bottom and work your way up (tip to root).
If blow-drying, curling or flat-ironing, be sure to use a heat protecting spray to avoid damaging the hair.
For best long lasting results, wrap hair or units in silk scarf and/or sleep on silk pillowcases. Cotton is a rough material and can cause the hair to tangle if excessive rubbing occurs.
Sea salt is harmful to any hair since it will dry out the hair and cause extreme tangling.
When washing the hair, the pattern may change slightly.
Is it true that hair shouldn't tangle?
No, this is a myth in the hair world. ALL hair tangles at some point, even your own. The important thing is how easy is it to clear the tangles and how often they comeback if not provoked. Tangles are driven by different things. Here are a list of things that may cause tangling.
Jewelry around the neck
Hair that has a lot of product in it
Sweat
Rubberbands when pulled out of hair
Dryness can lead to brittle hair which in turn can cause tangling.
If the weft or unit sheds, does it mean the hair is no good?
No, this too is a myth. Shedding, just like tangling is driven by certain things. However, if you have excessive shedding and balding of your closures or units, this be signs of a poorly constructed item. Here are a few things that may cause shedding.
Not sealing the wefts
Cutting the wefts
Combing curly hair with a small tooth comb
Not combing hair from the bottom up or too much combing/brushing.
How to keep units in place
There are several ways to keep your unit in place and avoid shifting
Invest in a wig gripper. A wig grip stops the unit from sliding backwards on the head Click HERE to purchase wig grip.
Sewing down the unit will keep it in place. Keep in mind, as your hair grows underneath, it may change how the unit sits on your head over time.
Gluing the unit will keep it in place for 3 days to 2 weeks or more depending on which type of glue you use. Some glues may be harmful to your skin. Do your research.
How to avoid balding in units, frontal and closures
It is important that you do not OVER-stress the delicate lace that the unit, frontal or closure is made of. MyThairapy recommends you invest in more than one unit, frontal or closure so that you are not consistently wearing the same lace all the time.
If you like to wear parts, please be sure to change your part ever so often to prevent stressing the part area.