Elixir Hair Growth Oil (AVAILABLE NOW)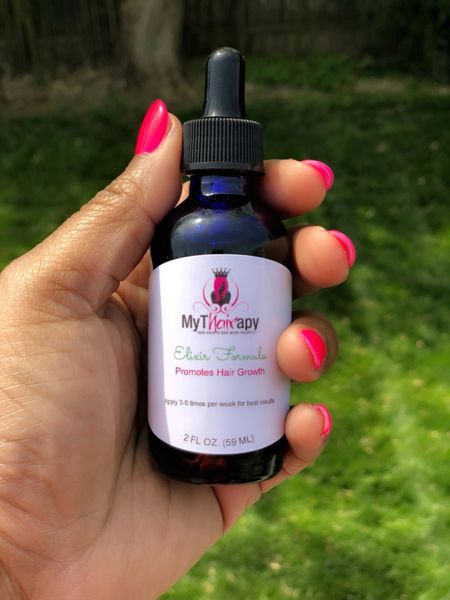 Elixir Hair Growth Oil (AVAILABLE NOW)
POWER PACKED with vitamins, nutrients and minerals that your hair needs in order to grow stronger, longer and healthier.
Unlock the door with the key to a healthier hair environment with "MyThairapy's Elixir".
Get your's today while supplies last.

Nourishes, stimulates and cleanses hair follicles while creating a healthy environment for hair growth.
- 100% All natural products used
- Antibacterial and Anti-fungal properties
- Adds moisture to dry and/or brittle hair
- Adds a healthy sheen to any hair type
- Treats dandruff and dry scalp
Instructions for use:
- Apply 3-5 times per week directly to the scalp for best results (recommend parting hair for ease of application)
- Can be used specifically on areas that are thinning, irritated, itching or dry
- Massage oil into scalp to activate the properties (you may feel a cooling or tingling sensation)
- Although results may vary from person to person, if instructions are followed correctly, you should begin to see results in 30 days.
Active Ingredients: Castor Oil, Jojoba Oil, Coconut Oil, Mint Extract, Tea Tree
Disclaimer:

To avoid any harm to your scalp while using this product, please

do not use immediately after any type of Chemical Service

, (i.e., Relaxer, Color etc).  This will result in a more intensifying scalp sensation and could cause skin irritation.
Remember: After a chemical treatment the pores of your scalp have been opened and a chemical has been deposited onto your skin and within your hair follicles.  The mixing of the essential oils with a chemical treatment or service may have a possible adverse affect on your scalp causing burning, rash or scabbing).